Cyber Ninjas' ties to Trump during Arizona election 'audit' revealed in messages
Former President Donald Trump publicly kept his distance from the review of Maricopa County's 2020 election. But inside Veterans Memorial Coliseum in Phoenix, his influence loomed over critical aspects of the "audit," according to messages sent and received by the man leading the ballot recount.
New records show Trump received direct updates from people at the coliseum, his allies pressured the lead contractor on when to report findings, and that contractor asked people close to the former president if he could help pay for it. This all happened as leaders of the state Senate publicly denied Trump had any involvement in their effort.
While messages from those working on the audit indicate they intentionally kept the president at arm's length to avoid the appearance of his influence, behind the scenes they sought Trump's approval — and money.
In April 2021, four days before the election review began, Cyber Ninjas founder Doug Logan used a private messaging system to discuss taking a donation from Trump and his team surreptitiously.
"I told them there was no way I could take funds directly," he said in the chat.
Once the audit concluded and the now-defunct Cyber Ninjas was millions of dollars in debt, Logan would lament that Trump never did directly fund his work.
"It's my understanding that our underfunded status is known all the way up to 45," Logan wrote to a subcontractor in a conversation about how to pay everyone. "Never talked with him, but I've been told the message has been received."
Logan has released tens of thousands of personal messages he sent to supporters and subcontractors involved in the audit in response to ongoing lawsuits from The Arizona Republic and a left-leaning watchdog group based in Washington, D.C., called American Oversight.
The messages reveal for the first time how Logan worked with Trump allies to help finance the work, shape media coverage and manage day-to-day operations as teams worked to hand count 2.1 million ballots cast by county voters.
Logan for months fought the release of his personal messages, which The Republic first sought through state Public Records Law. But after a $50,000-a-day sanction for noncompliance and exhausting all appeals, Logan's lawyer has turned over many — but not all — text and Signal messages Logan sent and received while working on the audit.
Logan on Tuesday declined to comment on the pleas for money he made through extensive communication with Christina Bobb, a former Trump lawyer and conservative broadcaster who served as a go-between for the former president.
Arizona Senate Republicans hired Cyber Ninjas to recount and inspect ballots, and the so-called "audit" confirmed President Joe Biden's win in the state and made no concrete findings of wrongdoing by election officials. But for months it served as a marketing tool for politicians who campaigned on unproven accusations that the election was compromised.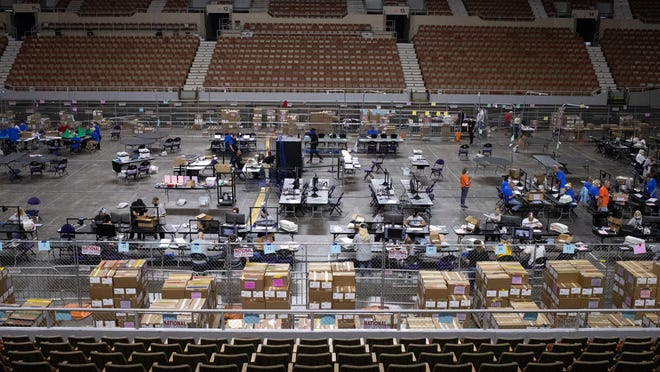 Senate Republicans said from the outset that Trump did not push for the audit and did not provide any assistance for it, financial or otherwise.
Former Senate President Karen Fann, a Prescott Republican who hired Cyber Ninjas, repeatedly said the effort was not done to put Trump back in the White House.
"This absolutely has nothing to do with Trump," Fann wrote in an email to a constituent days after the audit began in 2021. "The election cannot be overturned. This audit is ONLY about election integrity, answering their questions, and hopefully proving there was nothing wrong with the election."
She reacted with surprise Jan. 19 to the newly released messages when contacted about them by a reporter. When the audit began, she said, she did not know the extent to which Trump allies were involved.
"I did not know," she said. "Since then I have now connected the dots. ... Obviously, in the subsequent months, it was very apparent."
Trump was watching, chatting with broadcaster
Several references in Logan's messages indicate people in Trump's circle were closely watching Maricopa County and reporting back to the former president, who they sometimes referred to as "45." Trump was the nation's 45th president.
Logan in the messages discussed Trump's interest in the work with Bobb, who was given broad access to the election review while working as a personality for the right-wing OAN Network.
Bobb worked in the Trump administration as an appointee in the Department of Homeland Security. She left in early 2020 to join OAN. But after Trump lost the 2020 election, Bobb volunteered to help his legal team challenge the results and was with his team until the Jan. 6 attack on the Capitol, according to her testimony to the congressional committee that investigated the attack.
Shortly after Trump's loss, she helped coordinate a meeting in Arizona at which Trump lawyer Rudy Giuliani suggested the election was compromised.
Bobb continued to work as a personality for OAN and began covering the Arizona audit, where she messaged frequently with Logan. She also helped raise money for the audit through her connections to Trump and his organization.
Other media were restricted to a small press box in Veterans Memorial Coliseum — when they could get into the building at all.
Bobb at one point told Logan she would ask the Trump organization for recommendations for a lawyer to help with the audit because Logan didn't like the lawyer recommended to him at the time.
On June 19, 2021, Logan asked Bobb if Trump would pressure Arizona GOP Chair Kelli Ward to donate some of the money she was raising off the audit to the actual work, which he said she had not done. Bobb said Trump liked Ward because she was an "outspoken media personality" and was unlikely to push her to fund the audit.
Logan followed up, asking if Trump could press people to donate to the nonprofits set up to fund the audit.
"I will ask him. He shies away from publicly supporting the audit. I will raise the money issue with him next time we talk," Bobb responded.
Then on June 25, Bobb discussed funding with Logan, telling him that a wire would come from "Sidney" from Defending the Republic. Trump lawyer Sidney Powell raised money after his loss through a nonprofit by that name.
"I reached out to her and she didn't take my call. I'll try again. If she doesn't answer, I'll have Trump call," Bobb wrote to Logan.
Months later, Logan would report that Powell's group donated $550,000 to his work.
Bobb said in a recent interview with The Republic that she didn't officially join the Trump team until April 2022. But she did communicate with Trump about the audit.
"I knew that he was very interested in the audit," she said. "I was never officially communicating anything on behalf of anybody."
Often, Trump just wanted more detail than what she had shared in her news stories, Bobb said.
She said she never received funding for the audit from Trump or any organization affiliated with him.
"He was not involved in funding. I did ask. It was a no," she said.
Messages sought updates on counting, funding
In May 2021, as the work passed the one-month mark, Logan messaged with a man named Patrick Weaver who worked on the audit. Weaver was affiliated with The America Project, one of the groups that funded Logan's work beyond the $150,000 paid by the state.
"Any total count numbers you can give me for Abby to give to Trump?" Weaver wrote to Logan on May 25, 2021. The identity of "Abby" is unclear.
Logan responded with an update on the counting.
In July, Logan messaged with Phil Waldron, a retired Army colonel who worked with President Trump's chief of staff after his 2020 defeat to concoct ways Trump might stay in office.Waldron said Trump had planned to send $1 million to the audit, but Logan said he had not received it."Payment – 1 mil – supposedly Kurt talked to trump and they got 1 mil for you," Waldron wrote to Logan. The identity of "Kurt" is unclear.
How we got here:An Arizona election audit timeline
Fann unaware of some connections to Trump
Fann acknowledged that Bobb and Trump lawyer Rudy Giuliani "called several times" before the audit began as part of an effort to call the election into question. But said she did not "know anything else that was going on in the background" of the ballot count.
Arizona needed the audit to assure voters there was no chicanery in the numbers, Fann said.
"My job was to make sure we had an honest election in Arizona," she said.
She confirmed Trump called her "a couple of times" to discuss the audit as it unfolded. She said she didn't recall him trying to exert influence over the process, but rather he asked about it.
"He told me, 'Thank you for doing this,'" she said.
Even as Bobb reported on and raised funds for the election review — and her network was selected to livestream camera footage from the coliseum — Fann said she believed Bobb was acting only in her capacity as a news host, not a Trump surrogate.
'Is God really going to come through?'
Logan's lawyer has redacted several messages between him and Bobb sent during this time, despite clear orders from Arizona courts to turn over everything. Still, some of the unredacted messages show Bobb held out her connection to Trump as a way to influence Logan, who was desperate for money.
"Is God really going to come through in funding this thing?" Logan wrote to Bobb on June 26, 2021.
She replied: "I don't know what he's going to do, but I know in the end we win. I don't know how we get there. But yes, in the end it will all workout."
Logan told her that day he needed about $4.8 million more to complete the audit.
"I'll raise with 45 again next time we talk," Bobb replied.
The next day, Bobb messaged Logan asking if the Senate would issue a news release with his preliminary findings. Contractors had finished counting and inspecting ballots at the coliseum a few days before. It would be months before Logan made a final report.
"I'm getting a lot of concerned people calling me saying the audit will lose credibility if there isn't some type of announcement tomorrow," she wrote.
Logan didn't want to issue preliminary findings. He pushed back.
"That wouldn't be the case if there wasn't so much fake news that a number was expected tomorrow," he told the reporter.
Bobb lashed out.
"I strongly suggest you don't blame me for fake news," Bobb wrote. "I STRONGLY suggest that."
Bobb didn't pretend to be an independent observer about the ballot review.
"Remember we're on the same side," she wrote to Logan. "If you want to fight me, we both will lose."
Bobb said in an interview Jan. 19 she was pressuring Logan as a reporter, not on behalf of Trump.
"They needed to release the numbers. I remember that," Bobb said. "I was holding him to the same standard that I was holding the election officials. Why don't we have a result on election night? My personal opinion is when you are done counting, if you don't release the numbers that looks sketchy. I'm not accusing anybody of doing anything wrong, but it raises a lot of questions."
Asked whether she thought Logan did a good job on his final report, she said, "I don't have a comment on that. I like Doug Logan. I think he's great."
Fann: 'We did not do this for Trump'
Fann sought to distance herself from Logan's fundraising efforts. She said it was clear when Logan said he needed to raise up to $5 million to pay for the audit that the money wasn't going to come from the Senate.
She said she did not know about any outreach to Trump or any other potential sources. Fann said her involvement with finances stopped with the Senate's authorization of audit expenses, which included $150,000 for Cyber Ninjas.
The audit has cost taxpayers so far about $5 million, the bulk of which came from Maricopa County. That includes legal fees it spent fighting with the Senate over access to voting information and the cost of new tabulation machines needed once the audit was completed.
Fann said the Senate's audit was a way to stand up for voters.
"We did this to do the right thing," she said. "We did this to answer questions. We did not do this for Trump."
Republic reporter Justin Price contributed to this article.
Reach reporter Ryan Randazzo at ryan.randazzo@arizonarepublic.com or 602-444-4331. Follow him on Twitter @UtilityReporter.
Reach reporter Robert Anglen at robert.anglen@arizonarepublic.com or 602-444-8694. Follow him on Twitter @robertanglen.