Auburn football: Inside the frantic final minutes that led to Anders Carlson's kick to beat Arkansas

Josh Vitale
Montgomery Advertiser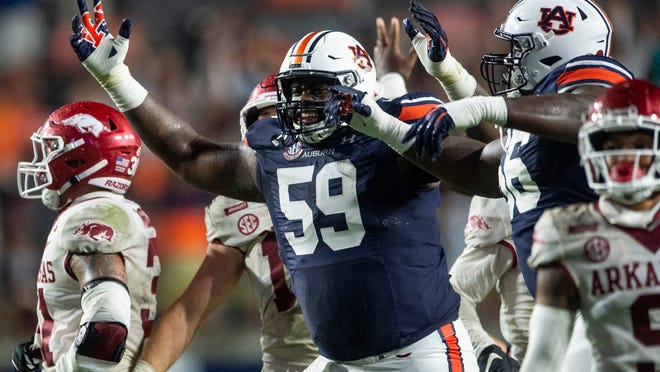 AUBURN — Anders Carlson could have hung his head. Flung himself angrily onto the bench. Slammed a helmet down onto the ground. His teammates could have shaken their heads. Avoided him. Even blamed him.
The offense drove 48 yards down the field in less than three minutes to set the junior placekicker up to attempt a go-ahead, 34-yard field goal with 2:38 remaining in the fourth quarter against Arkansas. Carlson missed it wide right.
It was his first miss in nine straight drives dating back to an Iron Bowl win over Alabama, where he made four kicks of more than 40 yards in a three-point victory.
But there was no panic on Auburn's sidelines. Gus Malzahn didn't even say anything to Carlson; just bumped his fist and gave him a knowing look. Players approached the kicker and told them he would get another chance.
He did. And he didn't miss a second time. No. 13 Auburn (2-1) avoided disaster with a 30-28 win over the Razorbacks (1-2), completing a bounce-back effort from a disappointing loss at Georgia a week earlier.
It was the Tigers' first game-winning field goal since Cody Parkey's against Louisiana-Monroe in 2012, and first in an SEC game since Wes Byrum's against Kentucky in 2010.
"Never in doubt," wide receiver Anthony Schwartz said.
Carlson goes down as the hero. But it took everyone to give him that chance. The defense. The offense. A coaching staff that had managed to save all three timeouts. Even the officials played a decisive role.
First, Auburn needed to get the ball back. That proved difficult over the final three quarters at Jordan-Hare Stadium. Arkansas started the game with punts on its first five drives, three of which came after three-and-outs. Auburn led 17-0. But the visitors caught fire after that, scoring five times in the span of six possessions to take a 28-27 lead with 5:29 to play.
"They were running some things we didn't see from them in the previous two games," linebacker Owen Pappoe said. "They got us on a couple."
One Razorbacks first down could have effectively ended the game. But when the Tigers needed it most, the defense stepped up. Jamien Sherwood and Derick Hall tracked down running back Trelon Smith for a loss of 5 yards on first down. Daquan Newkirk stuffed a second-down draw for a gain of only 3. Quarterback Feleipe Franks tried to run a draw on third down, but Zakoby McClain wrapped him up after only 4 yards.
"I saw the quarterback had dropped back, then I saw something funky," McClain said. "An O-lineman tried to block me. I don't like getting blocked, so I got off him quick."
The drive lasted three plays, gained 2 yards and took only 32 second off the clock. After a punt, Auburn took over on the visitors' 45-yard line with 2:06 remaining.
"I knew our defense was going to go out and get a three-and-out," quarterback Bo Nix said. "I knew we were going to get great field position, we were going to move the ball down, and he was going to have a chance to kick it again. I knew he was going to make it from the start."
Credit freshman running back Tang Bigsby for getting the Tigers back in Carlson's range. He touched the ball on three consecutive plays after a first-down incompletion – an 8-yard reception from Nix, then back-to-back runs of 9 and 8 yards to get the ball down to the 20.
MORE:Auburn's offense delivers Chad Morris win vs. Arkansas
Then came the controversy. On third-and-1 with the game clock ticking below 30 seconds, Nix lined up to spike the ball and stop the clock. Only he fumbled the snap. The sophomore quarterback picked the ball up and spiked it anyway, which is intentional grounding. He threw it backwards, too, which, by rule, is a fumble.
But at least one official blew his whistle and signaled incomplete while the ball was still bouncing around. An Arkansas defender recovered it moments later, but as the SEC explained later, the call could not be overturned – the rules state that there must be a clear and immediate recovery of the football, and the whistle nullified the latter.
"It was just poor on my part," Nix said. "Then, I guess they were trying to figure something else out, but I felt like at that point you just got to get the ball and spike it, take the penalty. That's all you can do."
Bullet dodged, that set the stage for Carlson – 39 yards for the win on a wet and sloppy field. A stage the junior placekicker said he always wants.
Carlson didn't get frustrated after his earlier miss. He talked to special teams coordinator Larry Porter holder Ben Patton about what went wrong. He double-checked what the wind was doing on the south end of Jordan-Hare Stadium. He took a few reps into the kicking net, even before he knew for sure whether another chance to kick would come.
And when he jogged back onto the field, Carlson said he spoke two words to himself. He wouldn't reveal what they were, but whatever he said worked.
The kick he missed started at the center of the uprights and sailed wide to the right. The next one started inside the left upright and sailed just inside the right with seven seconds left to play. He had "no doubt at all" that it would.
"I was happy to end it that way," Carlson said. "But credit to all the other guys. A big sigh of relief."
Josh Vitale is the Auburn beat writer for the Montgomery Advertiser. You can follow him on Twitter at @JoshVitale. To reach him by email, click here. If you enjoy Josh's coverage, consider a digital subscription that will give you access to all of it.