Bo Nix continues to show fight. Will that lead to improvement under new coaching staff?

Josh Vitale
Montgomery Advertiser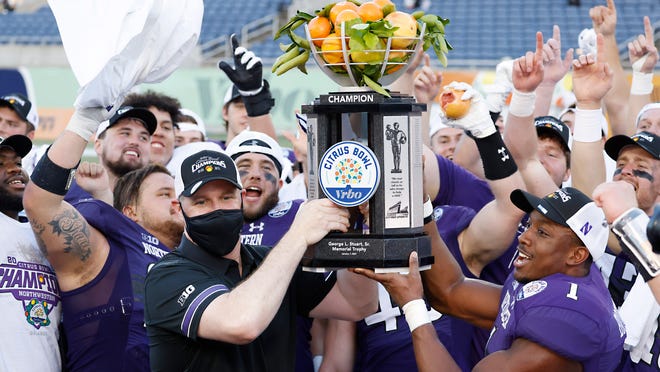 No one can question Bo Nix's fight.
Auburn's sophomore quarterback got hurt during Friday's Citrus Bowl in Orlando, Florida. Whether it was just cramps or something more is not clear, but he went down to the ground after a fourth-quarter scramble and had to be looked at by the team's athletic training staff before coming off the field.
Shaun Shivers fumbled on the exchange from backup Cord Sandberg two plays later, and No. 14 Northwestern converted the turnover into another touchdown that gave it a 22-point lead in a game it went on to win 35-19.
Analysis:3 takeaways from the Tigers' season-ending Citrus Bowl loss
No one would have blamed Nix for calling it a day at that point.
But for all his warts as a quarterback, that's one thing Nix has never done. Not in any of Auburn's nine losses the past two seasons, no matter how lopsided the score.
When the Tigers (6-5) started their next drive after the Wildcats' touchdown, he was on the field leading it. He got sacked on the first play, then led a 10-play, 75-yard scoring drive. He completed four of eight passes for 66 yards.
That's admirable. The question is whether it can or will lead to him improving under a new coaching staff.
Nix was supposed to make that leap this season. The former five-star recruit earned SEC Freshman of the Year honors after completing 57.6% of his passes, averaged 195.5 yards per game and 6.7 per attempt, and threw 16 touchdowns to six interceptions in 2019. The addition of first-year offensive coordinator Chad Morris was supposed to take him higher.
More:Auburn's 2020 assistant coaches face uncertain futures after bowl game
Instead, Nix stayed largely the same player. He completed 59.9% of his passes for 214.6 yards per game and 6.8 per attempt. He threw fewer touchdowns (12) and more interceptions (seven). His biggest leap came as a rusher, where he went from 313 yards and six scores to 388 and seven despite playing two fewer games.
Nix passed for 292 yards and a touchdown against Northwestern, which came on an impressive 57-yard catch and run from freshman Elijah Canion. But he hit only 25 of 42 passes, his fifth game completing less than 60% of his passes this season.
Report card:Grading Auburn's performance in loss vs. Northwestern
He spent much of Friday's game scrambling, often from pressure allowed by the offensive line but not always. Many of his throws were on the run and off balance.
Bryan Harsin, named Auburn's coach on Dec. 22, watched the performance from a box in Orlando's Camping World Stadium. His tenure truly began when the Citrus Bowl ended.
He spoke during the ABC telecast about the work that needs to be done. Much of it is obvious – hiring a staff, completing the 2021 recruiting class and establishing the culture he wants in his program.
But getting more out of Nix – if that is possible – needs to be a priority, too. And Harsin does have a track record of success coaching quarterbacks, most notably Kellen Moore (at least 64% completion, 3,480 passing yards and 25 touchdowns every year he played for Harsin) and Brett Rypien (who went from Mountain West Freshman of the Year in 2015 to Offensive Player of the Year in 2018).
Recruiting:Why Auburn signing QB Dematrius Davis was significant, and what it could mean for Bo Nix
But there have been others, too. In 2005, the season before Harsin became Boise State's offensive coordinator and quarterbacks coach, Jared Zabransky completed 59.1% of his passes, averaged 7.5 yards per attempt and totaled 18 touchdowns and 16 interceptions as a junior. In 2006, those numbers improved to 66.3, 9, 23 and eight, respectively.
Grant Hedrick completed 69% of his passes for 1,825 yards and 16 touchdowns as a junior for the Broncos in 2013. When Harsin returned as head coach, Hedrick improved to 70.8%, 3,696 yards and 23 scores, respectively.
Maybe Nix will be next on that list. At the very least, he's not going to stop fighting.
Josh Vitale is the Auburn beat writer for the Montgomery Advertiser. You can follow him on Twitter at @JoshVitale. To reach him by email, click here.