Is this the year for Bo Nix? The Auburn football quarterback showed positive signs on A-Day.
Bo Nix started trending on social media sometime during the first half of Saturday's A-Day spring game.
It's not because the junior Auburn football quarterback made a spectacular play, though he did have a solid day in completing 12 of 20 passes for 112 yards and a 4-yard touchdown (to Elijah Canion) to go along with 29 rushing yards on five carries. He nearly caught a pass from wide receiver Kobe Hudson on a trick play, too.
No, the reason was because Auburn fans started tweeting about him. And not just anything, but the same thing. Over and over and over again. Search these exact words on Twitter and you'll find hundreds of tweets containing them.
"This is the year. Bo Nix has improved so much under this new offense. He's focused. He's having fun. I wouldn't be surprised if he's a dark horse for the Heisman."
It was probably more of a running joke than a steadfastly believed take, given the former five-star recruit's struggles through his first two seasons – his 59.9% completion rate, 219.5 yards per game and 12 touchdowns last year ranked 10th, seventh and sixth among SEC quarterbacks, respectively. But there may be some truth in there, too.
A-DAY OBSERVATIONS:Auburn shows signs of progress in Bryan Harsin's first spring game
ROUNDTABLE:Will Auburn football's Bo Nix flourish or flounder under Bryan Harsin?
There has been cautious optimism about what Nix could be capable of in Year 3 as Auburn's starter in large part due to the fresh start he's been given under coach Bryan Harsin and offensive coordinator Mike Bobo. Each has a strong track record developing quarterbacks. Both have raved about his physical gifts and work ethic. The thing they wanted to focus on as spring came to a close was his decision-making.
Harsin seemed happy with that Saturday.
"We've seen Bo's got escapability and we know he can throw it, but I thought he made good decisions," the coach said. "He checked the ball down. We had some deeper throws that were called, but they weren't open so he checked it down and found the underneath throw. He made good decisions in the red zone; there were chances to possibly scramble and throw one, but he pulled it down and ran it and was able to get us in a first-down situation."
Nix credited a lot of that to the new offense. He feels the system Auburn's coaching staff installed gives him more freedom. Harsin noted that, too, saying Bobo did a really good job of challenging Nix to operate the offense – from making checks at the line to changing the tempo on the fly – and that the quarterback handled what was thrown at him.
"It allows me to be in a position to make choices and stuff and it gives me a lot of reads and a lot of progressions," Nix said. "I think that it's kind of easier to go through progressions and make decisions and just put my guys in great situations."
Of course, the spring game was a controlled scrimmage against Auburn's second-team defense. Some of the quarterbacks Nix will be competing against, Alabama's Bryce Young and Georgia's JT Daniels, threw for 300-plus yards in their respective spring games going on at the same time.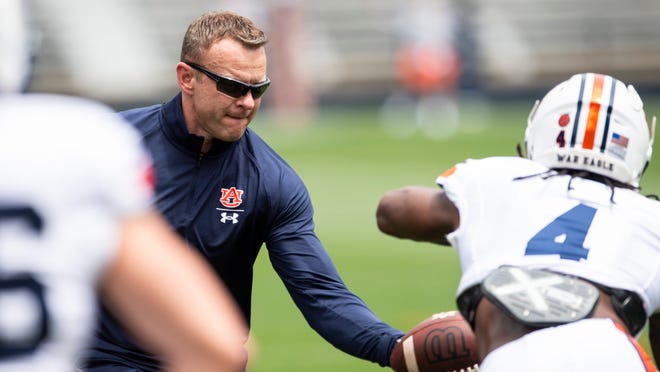 But there is room for Auburn to make needed improvements around Nix, too. A rushing attack led by Tank Bigsby and Shaun Shivers has the potential to be a force, but the pass-catching corps around Nix is still in the infancy of its development. No member of it caught more than nine passes last season. Two expected to be key cogs, Ze'Vian Capers and Shedrick Jackson, hardly practiced all spring because of injuries.
Canion (six catches for 52 yards) was the only receiver who caught more than two passes Saturday. The much-talked-about tight end group produced just two catches for 18 yards.
"(When) guys around him are playing well and we're running the ball effectively, we're making catches I think we're capable of making, then our quarterback's going to play really well and he's going to play excellent at times," Harsin said. "But that's really about everybody on the offensive side helping that position and creating opportunities for the quarterback."
It's too early to know whether that will be the case Sept. 4 when Auburn hosts Akron to open the 2021 season. But there have been enough positive signs this spring that make one believe it could be.
And if the last month confirmed one thing, it's that the starting quarterback job is Nix's. Senior backup Grant Loy completed just 4 of 12 passes for 29 yards, and while four-star true freshman Dematrius Davis did impress with a 42-yard completion to Johnson, he didn't get into the game until the second half.
So maybe this will be the year for Nix.
"My goal for this summer is to get great at a few things, and make sure those things that we repeat over and over and over we're great at," Nix said. "So, when the fall comes, we have something to lean on."
Josh Vitale is the Auburn beat writer for the Montgomery Advertiser. You can follow him on Twitter at @JoshVitale. To reach him by email, click here.