Louisiana Tech football reflects on COVID-19 affects on mental and physical health
After dealing with effects of Hurricane Laura when it smacked into  Louisiana in late August 2020, Louisiana Tech football was dealing with another crisis. There were 38 positive tests of COVID-19.
So far this season, including after Hurricane Ida, there's been two cases for the Bulldogs. 
With protection in mind, Louisiana Tech says 80% of the football team is vaccinated. 
But the struggle to get to this point left a lasting impression on the team, both mentally and physically. 
Bulldogs to-do list:Louisiana Tech football: What's on Bulldogs' spring practice to-do list?
COVID-19 Impact:Could Louisiana-Lafayette's COVID-19 spike impact ULM game too?
Extra year:Marcus Williams Jr. decided to play a fifth year of football. That's why he's at La Tech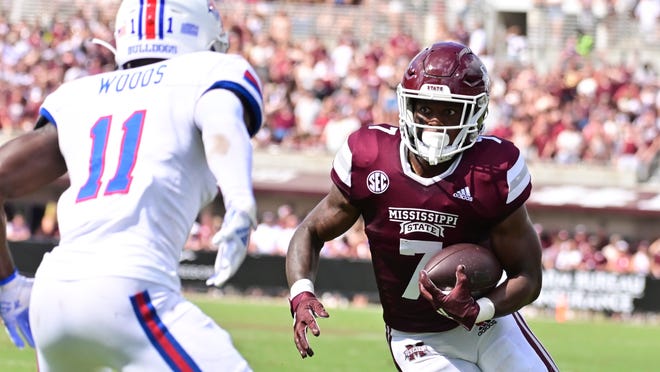 In March 2020, COVID-19 invaded college campuses, sending thousands of students home with the precaution of keeping them safe. But for athletes, it changed the trajectory of their livelihood. 
"We were still here in classes; it was just a lot of confusion," junior offensive lineman Josh Mote said.
"I mean obviously a lot of us during that time struggled with some anxiety as far as if we were going to be able to play or what the summer was going to look like. Because a lot of our schedules and our time revolves around our football schedules. It was just an odd time, but we got through it. We learned; it made us better, we grew a lot through that time. In a way, I'm almost appreciative of it too." 
The pandemic not only stripped away spring practices, winter conditioning, summer conditioning and delayed the start of preseason practices, but the most important time lost was the bonding experience between players, coaches and staff. 
"It took away our brotherhood, it took away our togetherness," coach Skip Holtz said. 
On March 12, 2020, Holtz and the coaching staff were planning for the first day of spring practice after returning from winter break seven days earlier. 
As Holtz sat in his office, he received a message that the next day was canceled.  At the time he didn't know  he wouldn't see his players in-person until July. 
Holtz never expected the process to return to campus to take  five months. He  originally thought it would take five days.
As the 2020 season commenced on Sept. 19 against Southern Miss, things began to go downhill for the Bulldogs. 
"We had to shut the program down for two weeks, we practiced three days before we played Southern Miss, had 28 players not be able to get on the bus because of contact tracing and positives before we went to BYU, there was just so many unknowns," Holtz said. "It was impossible to try and have any stability or consistency in your football team last year." 
Over the 2020 season, the Bulldogs had five games canceled or postponed and saw the toll that a body not fully prepared for the brutal hits at the Division I level endures. 
La Tech finished 5-5, including a 38-3 loss to Georgia Southern in the New Orleans Bowl. 
So what's changed in 2021 for La Tech?
In 2021, spring practice returned and the Bulldogs were able to get back to normal training while recreating the bonding opportunities that they had so sorely missed the previous offseason. 
Although La Tech  (2-4, 1-1 C-USA) doesn't have the record to show it, the Bulldogs have grown tremendously since last year. The outcomes against  Mississippi State, SMU and North Carolina State have come down to a final possession. And homecoming on Saturday (6 p.m., Stadium) won't be easy against No. 24 UTSA (7-0, 3-0). 
However, the Bulldogs might not be as strong physically or mentally if it wasn't for the pandemic. 
Freshman defensive back Cedric Woods realized that the past year changed him more than he realized. 
"Recently, I've been doing a lot of self-reflecting, and I've realized that the pandemic impacted me in ways that I never knew," Woods said. "It was a lot of ups and downs and dealing with adversity, and I feel like it made me stronger looking back on it." 
"What I learned from myself is that you gotta be strong mentally. We all know that football is a physical game, but you hear a lot of coaches say it's more mental than physical. I feel like I've grown mentally and learned different things to help me be a better football player as well as a better person off the field as well." 
The worldwide call  for mental health during the pandemic was not overlooked at Louisiana Tech. 
Holtz compared the pandemic to solitary confinement. 
"I think it's very difficult to sit alone with yourself and your own thoughts for an extended amount of time," Holtz said. "I think it can very dangerous especially for an 18 to 22-year-old." 
But if you ask Holtz if he regretted playing last year, the answer would be absolutely not. 
"I think it was the right thing to do for the mental health of our student-athletes to bring them together to try and get back to some kind of normalcy," Holtz said. "I think that is part of our culture, that is part of how we grow, that is part of how we stay (mentally) healthy is interacting with others."