Opinion: LSU basketball is finally sharing the basketball, listening to Will Wade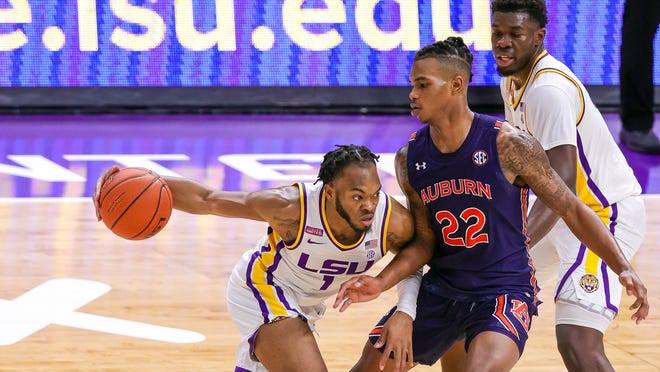 BATON ROUGE - LSU basketball needs to take a weather-related week off more often.
The Tigers played one of their best games of the season on Saturday in disposing of Auburn, 104-80, one week after its best game of the season, a 78-65 win over No. 15 Tennessee.
LSU (14-6, 9-4 Southeastern Conference) did not play any games in between those two because of weather issues. 
Now No. 20 Tennessee (15-6, 8-6) is clearly better than Auburn, which fell to a pedestrian 11-12 and 5-9 with its fifth loss in six games.
Regardless of Auburn's less-than-mediocre team, though, LSU won its third straight by continuing to look like a new team and not like an AAU team. Instead of standing around and passing it around on the perimeter, the Tigers used a new strategy for them.
They dribbled toward the goal. This often allows teammates to get open near the goal, and LSU dominated Auburn in the paint. Therefore, the game is not an arbitrary exercise of how one shoots from the outside. And everyone gets involved.
LSU scored its most points in a regulation SEC game since beating Tennessee, 119-87, on Feb. 23, 1991, in the Assembly Center. That was with Shaquille O'Neal and Vernell Singleton on a team that knew how to play defense, and the Tigers won the SEC title at 20-10 and 13-5 that season.
LSU had five players in double figures and nine players who scored on Saturday. That usually does not happen with this team. As usual, guards Cameron Thomas and Javonte Smart were the stars with 27 and 16 points, respectively. And Trendon Watford added 18 with 11 rebounds. Darius Days put in 17 with 4-of-7 shooting from 3-point range.
But backup forward Josh LeBlanc, a junior transfer from Georgetown, entered the picture with his first double-double - 12 points and 10 rebounds off the bench.
"We're just sharing the ball and treating each other better the last couple of games," Days said. "In the middle of the season, we were just playing a lot of one-on-one ball."
That doesn't work for long.
"Everybody had a great game," Days said.
"Javonte was great. Cam was great. Days was great. Trendon was better," LSU coach Will Wade said.
"Even Josh LeBlanc had a great game," Days said.
"It was us moving around on offense," Thomas said. "And getting to the paint and drawing fouls."
It's amazing what can happen with better practices and strategy.
Auburn beat writer Josh Vitale of the Montgomery Advertiser could not have been more accurate when he tweeted this just when the rout was getting started: "My first thought watching this LSU team is how the heck is it only 13-6? Everybody gets buckets. 9-15 from the floor so far. Leads Auburn 24-14."
And Auburn never recovered. 
"We're starting to figure it out," Wade said.
The Tigers are in a position to finish strong now as they play two lower-division teams in the SEC over their last four regular season games - Georgia (13-9, 6-9) on Tuesday (6 p.m., SEC Network) and a home game against Vanderbilt (6-12, 2-10) on March 2. After Georgia, LSU is at Arkansas (17-5, 9-4) Saturday.
The Tigers will likely finish their regular season against Florida (11-6, 7-5) on March 6, which would be a makeup game.
"We're making progress, but we've got to keep going," Wade said.
Even the defense was better.
LSU is even starting to surprise itself.
When told of the Tigers making history with their 104 points, Days appeared to be in shock and could only mouth the word, "Wow."