Cajuns defense 'competed their tail off' as high-scoring offenses deadlock
Nick Fontenot
Special to the Advertiser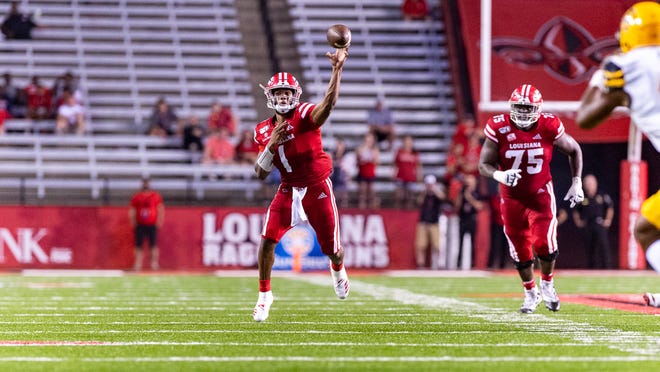 Appalachian State's 17-7 win over UL Wednesday didn't quite play out as anticipated — right down to the final score.
The two teams combining for 24 points was a far cry from the Mountaineers' 47 points-per-game average, and the Cajuns' average of 44. It was safe to expect a high-scoring affair, but at halftime with the score 7-7, it was apparent the game was not going to go as planned.
"The margin of error in this game was slim," said UL coach Billy Napier. "I think the extra time gives you time to change some things, and we benefited from it defensively, but it goes vice versa.
More:UL stonewalled again in Sun Belt championship rematch
More:Ryan Leaf broadcasting UL, Appalachian State football leaves fans feeling mix of pity, joy
"If it was a shootout tonight — which I think most people expected — then everyone would say the extra time benefited the offense. It was strength-on-strength tonight and a back-and-forth game between two good football teams."
The strength of the Cajuns offense has been the rushing attack, but Napier said the effectiveness of the running game wasn't as crisp as in previous weeks. The Cajuns had an unorthodox open to the game offensively, using quarterback Levi Lewis more in the passing game early instead of relying on the stable of running backs.
Watch:Appalachian State vs. Louisiana football video highlights
"A lot of those plays didn't go the way we intended them to go," Napier said. "Whether it was protection or decision-making or good disguise on their part, we didn't execute effectively. We didn't rush it as effectively as we typically do. The way we play offense starts with that, and when you play from behind the chains, it makes for a long day."
Lewis finished 13-of-24 for 131 yards and a touchdown. Lewis said he was upset that the offense couldn't put points on the board to reward the defense for consistently putting the Cajuns in position to win.
"Our defense stepped up and did a good job," Lewis said. "We were well-prepared. It sucks when you're not putting points on the board. We can't outscore a team that put up 17 points. It sucks. It's a bad feeling."
Despite the offensive woes Wednesday, Napier said he was pleased with the defensive game plan and the fact the defense kept the Cajuns in the game until the end. He also credited Appalachian State's defense for their own game plan and said there is a lot to be learned from Wednesday's opponent.
"That is a very good defensive football team," Napier said. "Those guys know how to win. They have some impressive players and they had a tremendous plan that caused issues for us.
"We have a defense that competed their tail off. I'm proud to be their coach and how we respond to this will define who we are. There will be a day when we have a veteran football team and one day we will win those games."
Column:Will Cajuns, Sun Belt ever pursue a regional approach?
More:Could Cajuns' future hold more games against Power 5 opponents?
As Napier and the Cajuns look to turn the page on a game they let get away, there are a lot of positives to take away. Punter Rhys Burns had four punts pinned inside the 20-yard line and the Cajuns defense is clearly an ever-improving unit. The Cajuns postseason goals are still ahead of them and Napier said how the team responds from this loss will tell a lot about the team's character.
"There are a lot of lessons to be learned tonight," Napier said. "Our football team is going to grow. There are lots of young players experiencing this adversity for the first time. As bad as it may feel at this moment, we will grow from it.
"There isn't any question we had a good plan. We made them execute in critical situations and their quarterback (Zac Thomas) played well when he needed to. If we can put some things together on offense, we can have a different outcome in games like these."