UL defense heads to Arkansas State feeling quite good

Tim Buckley
The Daily Advertiser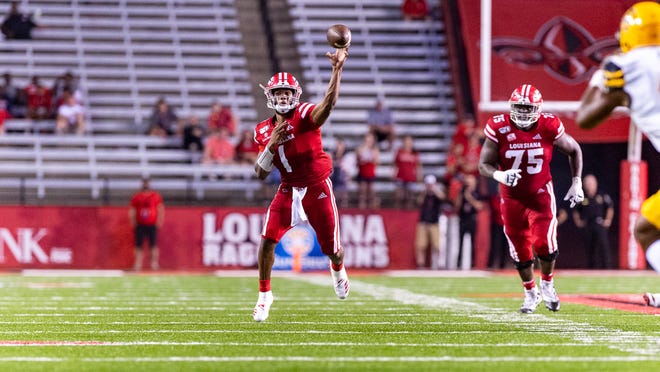 As they prepare to play at Arkansas State on Thursday night, the Ragin' Cajuns do so with the defense feeling as good about itself as it has in quite some time.
Behind the belief is the unit's showing in UL's 17-7 loss to defending Sun Belt Conference-champion Appalachian State last Wednesday night.
After holding the now 5-0 Mountaineers to 30 points below their Sun Belt-leading average of 47.0 points per game heading into the night, all the Cajuns needed was for its offense — which had been averaging 44.4 itself — to answer the bell.
"Defense, we had to keep the momentum the whole game in order to win," linebacker Kris Moncrief said. "We didn't pull out the win, but the defense, we handled our business."
More:UL stonewalled again, falls to Appalachian State
Column:UL reaction to football attendance pivots on perspective
It did, for the most part.
Appalachian State scored its lone two touchdowns, a pair of 7-yard runs by quarterback Zac Thomas, on two lengthy drives — a 95-yarder that took just seven plays and less than three minutes in the first quarter, boosted by a 47-yard pass to Corey Sutton, and a 97-yarder that took 19 plays and consumed more than 10 minutes in the fourth quarter, putting the Mountaineers up by 10 with just under two minutes to go.
But beyond that, UL's defense mostly frustrated an Appalachian State offense that produced 343 total yards — all but 151 of them on the two aforementioned TD drives.
"I'm proud of the way our defense played," UL head coach Billy Napier said after it permitted 380 or fewer yards for the fifth straight time this season, including a low of 236 in a 77-6 win over Texas Southern.
"We had a good plan, and our players played well. We covered well. We stopped the run at times. … I'm proud of our staff. I think Coach (Ron) Roberts and his crew had a great plan, and we played hard. We were sound fundamentally. … Just a handful plays there where we had some issues."
Related:Cajuns defense 'competed their tail off' as high-scoring offenses were slowed
Individually, several Cajuns stepped up and stood out.
Inside linebacker Jacques Boudreaux was in on a team-high 10 total tackles. Safety Percy Butler had eight solo stops. Defensive end Chauncey Manac was a difference-maker with seven tackles after missing one game with a back injury.
Defensive lineman Zi'Yon Hill had seven tackles too, and nickel Terik Miller six. Joe Dillon had five including a big sack for minus-14 yards, and fellow outside linebacker Moncrief had 2.5 tackles for loss.
Defensive lineman Bennie Higgins got behind the line for a TFL among his four, and inside linebacker Lorenzo McCaskill showed strong late with four as well.
Related:Death in Detroit made UL's McCaskill seek a better path
More:Much expected from Hill and Higgins, key pieces to UL's defensive line
More:Fire destroyed UL football senior Bennie Higgins' family home and you can help
More:UL's Chauncey Manac 'impacts every game he plays in'
The biggest difference-maker, though, may have been the plan put in place by Roberts, UL's second-year defensive coordinator and a former head coach at Southeastern Louisiana.
"Coach Roberts put us in great position to do that," Moncrief said of the pressure UL was able to get early on, "and after that we just executed the whole night."
Or at least most of it.
Roberts evidently picked up on several App State tendencies via film work, and the Cajuns — looking gap-sound and trusting their keys against a good run team — were prepared to deal with them.
"Coach Roberts allowed us to play fast," inside linebacker Ferrod Gardner said, "and the scheme he drew up … was perfect for us."
Three times in the third quarter alone, Appalachian State's offense — led by a quite-capable QB in Thomas and a terrific running back in Darrynton Evans — went three-and-out.
At times, it seemed as if UL knew what the Mountaineers were running before they even ran it; perhaps they did.
"We know what they were gonna do," Gardner said, "and we called out a few of their plays when they were gonna do 'em.
"So defensively we were ahead of the curve. We just didn't make enough plays to win the game."
More:Tragedies in Dayton rattled Cajuns linebacker Gardner
Proving particularly problematic was Appalachian State's lengthy final drive, which put the Mountaineers up by two scores and allowed the Cajuns not nearly enough time to make up the difference.
Moncrief pinpointed "mental mistakes" as the Cajun culprit, not fatigue.
Twice on the drive App State went for it on fourth down and converted, the second time thanks to an interference call on cornerback Eric Garror that two plays later resulted in Thomas' second TD.
"I just feel like we just made a lot of mistakes that drive," said Gardner, who feels the Cajun defense, much-maligned the last several seasons, "definitely" is improved compared to this time last year.
"It wasn't really we allowed them to push the ball on us. It was we gave them that drive. We gave them a lot of their opportunities. We gave them a lot of plays.
"I'm not taking anything away from them. They're a great team," Gardner added. "But, at the same time, we're a pretty dominant team, and we made a lot of mistakes, and it's gonna show up on film."
Moncrief seemed to feel similarly.
More:Napier says after Cajuns loss, 'We're gonna live and learn'
"They just went for it. That's all it was," he said with reference to the Mountaineers' final drive. "They converted. Good job by them.
"It hurts really bad," he added, "but we're gonna bounce back off of it."
That's the attitude 4-2 UL is taking to Arkansas State for its ESPNU-televised meeting with the 3-3 Red Wolves, who themselves are averaging 33.7 points and 430.8 yards per game this season.
"We know we could have won this game, so that's what's hurting us the most," Gardner said after the loss. "It's a back-breaker. That final drive, when they came and scored, it really just set it in for us.
"But we know we've got a long season ahead of us. We can definitely go ahead and bounce back."
Column:Will Cajuns, Sun Belt ever pursue a regional approach?