What Louisiana Ragin' Cajuns guard Mylik Wilson did to get going after a rough stretch

Tim Buckley
Lafayette Daily Advertiser
He experienced a stretch where shots simply weren't falling.
UL guard Mylik Wilson was getting good looks on 3-point attempts that were just off the mark. He'd drive to the basket only to see the ball roll off the rim. In the second outing of a two-game split with Little Rock earlier this month, Wilson was 3-for-13. Last Friday at Texas-Arlington, he was 5 of 16 including 1-for-3 on 3-pointers.
All that changed Saturday at UTA.
The Sun Belt Conference's 2019-20 Freshman of the Year scored a season-high 25 points in a 68-51 win for the Ragin' Cajuns (9-4, 3-3 Sun Belt), who play host to Arkansas State at 6 p.m. Friday and 4 p.m. Saturday (ESPN+, KPEL 96.5 FM).
Last season:Freshman Mylik Wilson living up to the hype for the Ragin' Cajuns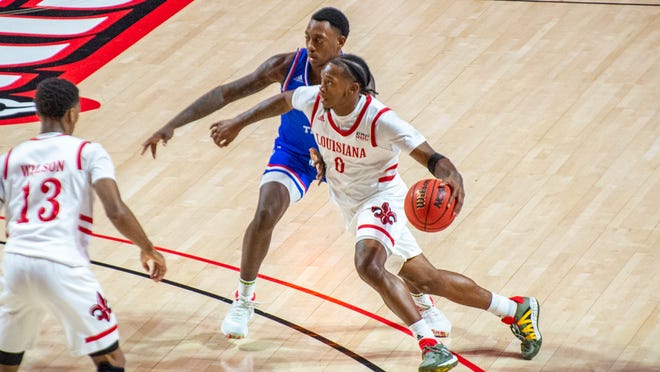 Wilson hit 8-for-11 including 5-for-5 from behind the long-distance line.
"All those shots were clean too," coach Bob Marlin said. "They were all net. He shot the ball with confidence."
But it wasn't just offensive numbers that pop from Wilson's stat line. The Rayville High product also had four steals and a career-high 16 boards.
"I was glad he made the shots," Marlin said, "but more impressed with 16 rebounds."
Wilson's play on one end got him going on the other.
"Before the game we talked about having energy," he said, "and that's what I feel like we had.
"Then, when my shot went in and I felt like I was gonna have a good game, and the second one went in, I was like, 'Yeah.' "
Advice:What Bob Marlin said changed how Brayan Au plays the point
Wilson got going with defense first
Marlin was similarly enthused.
"It started off with the defense and then, when you added the shots in, you could tell it gave him total confidence, and he went and got the ball," he said.
"Those 16 rebounds, probably a dozen of them were at the rim. I mean, he's going and getting them with two hands above other bigs.
"You could see it in his eyes early," Marlin added. "He had confidence on defense, he had confidence on offense, and when a good college player gets rolling, making shots, good things happen."
Even when that confidence was tested prior to Saturday, Wilson stayed calm and didn't get down.
Yet he couldn't escape the reality shots just weren't dropping.
Huge:New Ragin' Cajuns basketball big Theo Akwuba is imposing at 6-foot-11 with a 7-6 wingspan
"There's no doubt it's been on his mind," Marlin said.
"He knows he missed some shots at home against Little Rock in the overtime 2-point loss that would have helped us, and he came out and worked hard (last) week and it paid off for him. … Hopefully he'll continue to play with confidence and take off the rest of the year."
For Wilson, who scored a career-high 30 at Appalachian State in January 2020, the turnaround was all about trusting his stroke – and remembering he made 35.8 percent from beyond the arc last season.
"When I feel like that first one's gonna go," he said, "I feel like the next one's gonna go in, then the next one's gonna go in."
'Shooters are gonna shoot'
Even if they don't, Wilson's mentality – like most natural shooters – is to continue shooting. But if he misses a couple, even a few in a row, he tries take to the basket to get himself going.
"Shooters are gonna shoot," Wilson said. "You're gonna miss sometimes, but … you've got to keep believing and having confidence in yourself."
The flip side is that hitting from the outside helps to create opportunities for Wilson to drive.
"If your 3 ball is falling, they've really got to pressure you now. They're up on you tight," he said of defenders. "So then now you've got time to blow by (them) when they get too close.
"So I feel like if the 3 ball is falling it's going to be a good night for you."
Sun Belt basketball preview:Ragin' Cajuns add a lot; Little Rock team to beat
Like it was last Saturday, an outing Marlin felt was due – but also one the Cajun coach felt coming.
For a while earlier this season, Marlin said Wilson – the Sun Belt Conference freshman leader in scoring, rebounds, steals and minutes played in 2019-20 – "got off to slow starts in games."
Rather than sulk, he toiled to get himself going.
It finally worked.
Now Wilson is averaging 14.4 points point per game – up from 11.5 last season, when he finished as the lone NCAA Division I freshman nationally averaging 11 points, five rebounds, two assists and two steals per game and became just the 21st freshmen nationally since the 1992-93 season to average that many in all four categories.  
"He stays after every day in practice and shoots, spends time with the coaching staff," Marlin said. "And we knew it was just a matter of time before he would break loose."
Easier said than done:Ragin' Cajuns feel dual-sport pursuit is difficult but doable