With the Levi Lewis era done, picking the next Louisiana QB looms large

Tim Buckley
Lafayette Daily Advertiser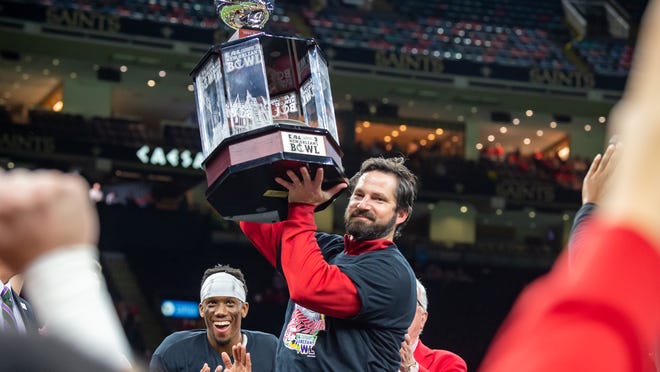 NEW ORLEANS – As one chapter ends for the Louisiana football program, another is just beginning.
The Levi Lewis era is complete for the Ragin' Cajuns, whose super senior quarterback played his final game for No. 17 UL in a 36-21 come-from-behind New Orleans Bowl win over Marshall on Saturday night at the Superdome.
The game was the first for coach Michael Desormeaux after replacing Billy Napier, and now the former Cajuns quarterback must pick UL's next starter.
Will it be someone who's paid his dues? Or could it be an incoming freshman with traits strikingly similar to Lewis?
HOW IT HAPPENED:UL rallies behind Levi Lewis as Cajuns top Marshall
VIDEO HIGHLIGHTS:Louisiana Ragin' Cajuns vs. Marshall in the New Orleans Bowl
The New Orleans Bowl, though, was all about Lewis, who was 19-of-31 for 270 yards and one touchdown while also rushing for 74 yards.
The 270 yards left Lewis, already the program's career leader in touchdown passes, 26 yards shy of former NFL quarterback Jake Delhomme's school record  of 9,216 from 1993-96.
Lewis and Delhomme are the only two Cajuns QBs to throw for more than 9,000 yards, and Desormeaux considers them members of a exclusive club.
The one where everybody knows your name, and it's not the last.
"You're around Lafayette, it's 'Jake.' You don't need to say, 'Delhomme,' " Desormeaux said. "I think 'Levi' is gonna be one of those names."
So before the New Orleans Bowl kicked off, Desormeaux wasn't thinking at all about 2022. It was all about riding Lewis, who said Friday he has accepted an invitation to play in the Jan. 15 Hula Bowl.
"He deserves to go out the right way," Desormeaux said.
"This is not the time for us as coaches to make a statement. It's not about us. It's about these guys, and it's about winning this 13th game in a row, and doing something that's never been done here."
Mission accomplished for UL (13-1), which, much to the satisfaction of Lewis, finished its year with 13 straight wins following a season-opening loss at Texas.
"You always want to go out the right way," said Lewis, who gave away his bowl MVP trophy to running back Emani Bailey, whose first of two fourth-quarter touchdown runs helped UL rally from 21-16 down.
UL quarterback questions
Now the turn of the page brings a ton of quarterback room questions.
Can Chandler Fields, who has played sparingly while dutifully spending three seasons as Lewis' primary backup, claim the No. 1 job?
Fields has patiently waited his turn behind Lewis, who finished his career 35-7 as UL's starter. But the Archbishop Rummel High product from Metairie is not necessarily the clear-cut starter going forward.
Can Ben Wooldridge, a transfer who was listed as UL's co-backup all year despite not appearing in any regular-season games, wrestle the job away? He was Fresno State's backup from 2019-20, appearing in five games.
What about Lance Legendre, the Warren Easton High product from New Orleans who appeared in six games for Maryland from 2019-20 and started one? He spent the season working with the scout team, imitating mobile quarterbacks the Cajuns were preparing to face.
How about redshirt freshmen Hunter Herring, a one-time UL Monroe baseball commit, and Zy McDonald, nephew of New Orleans Saints hall-of-famer Deuce McAllister? Is either ready to vie for the job?
"The future is soon enough," Desormeaux said.
"Chandler and Ben and all those guys in that room that compete, they do a really good job, and I'm confident in them in the future."
The incoming freshman
Would Desormeaux dip into the transfer portal for a more experienced quarterback?
Or what about Zeon Chriss, a Madison Prep product from Baton Rouge who was the lone quarterback in UL's eight-member early signing period class?
Chriss committed to UL long before Napier left for Florida, but Desormeaux clearly is high on him.
"He fits the mold of the guys we have. He's mobile. … He's really got a lot of arm talent, and he's a winner," Desormeaux said.
"When you spend time with the guy, his demeanor and disposition – you don't like to do this a whole lot, because it's kind of not fair to the guys coming in, but you see a lot of the same things in Levi (Lewis) that you see in him, just leadership qualities, very humble, but very confident."