How Louisiana football coach Michael Desormeaux really feels about NCAA transfer portal

Tim Buckley
Lafayette Daily Advertiser
Even after sustaining significant losses in the NCAA transfer portal, new Louisiana football coach Michael Desormeaux isn't inclined to rely on the portal to replace all that he lost.
Starting right guard O'Cyrus Torrence, starting cornerback Mekhi Garner, rotation-regular running backs Emani Bailey and Montrell Johnson Jr., key receiver Kyren Lacy and reserve offensive lineman Kam Waites all have entered the portal this month.
"I believe if you live by the portal you'll die by it," Desormeaux said.
"We're not in panic mode. We're not going through the portal every day to see who hits. That's just not the way we're doing to do it. … That's not the world we're gonna live in."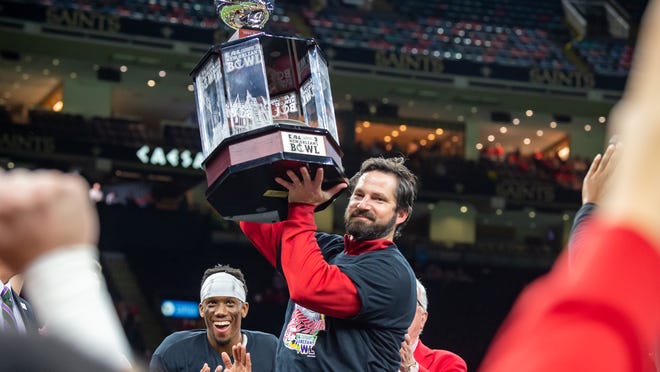 PROMOTED:Cajuns elevate receivers coach Tim Leger to offensive coordinator
HIRED:UL names Vanderbilt cornerbacks coach LaMar Morgan defensive coordinator
RETURNING:Cajuns hire former LSU analyst Jorge Munoz to coach tight ends
The reason for Desormeaux's reluctance?
"You're taking a big chance when you take someone that you know nothing about, you've got no prior relationship with and/or you don't have people you trust where they're coming from," he said.
"We don't throw offers out. This place is unique, and you don't create a great locker room culture, you don't create … that type of camaraderie by taking the wrong types of people."
Desormeaux,who did concede he may dip into the portal for offensive line help, is confident in Cajuns' depth, including at running back.
"We've got plenty on this roster to go out there and go do what we want to do, and in the long run it will just make it better in the end," he said.
'We … tried to keep them'
Bailey already has announced plans to head to TCU and Waites has joined former UL coach Billy Napier at Florida. Garner is headed to nearby LSU. Desormeaux said he doesn't expect any of the other three to stay at UL.
Torrence quickly received offers from Clemson, Auburn, Ole Miss and Michigan State.
Shortly after announcing he'd entered the portal, Lacy reported offers from LSU, Oklahoma, Auburn, Ole Miss, Houston, UCF, Penn State, North Carolina and South Alabama. Lacy, UL's leader in touchdown catches last season, visited Auburn this week.
Desormeaux said the six portal entries included "some things that maybe we didn't see."
"But, truthfully," he said, "I think it would have been naïve for us to think that we wouldn't have anybody go in the portal."
UL (13-1) won the Sun Belt championship game, beating Appalachian State, and the New Orleans Bowl, beating Marshall, in 2021.
"With a coaching change," Desormeaux said, "no matter how the guys feel about whatever the change is … that's kind of the landscape we're in right now.
"Every one of those kids, we 100% talked to, tried to keep them here. … And they all decided to move on, for various reasons."
Reasons for Cajun departures vary
Desormeaux said he's in favor of players having the option to transfer to a school of their choosing as opposed to coaches controlling if players can transfer or limiting where they can transfer to.
NCAA rules allow players who've entered the portal to remain with their most-recent program, if both sides agree.
But Desormeaux wouldn't say what would happen if a Cajuns player changes his mind and decides he wants to stay.
"Naturally, as I think everyone can understand, you can't just say, 'Hey guys, the door's open, go see what's out there,' " he said.
"So we have some systems in place that we've discussed with all of the guys. They know before they go into the portal what our policy is."
Desormeaux wouldn't disclose what that policy is.
He did say the six left for a variety of  reasons, but didn't disclose what those were either.
"Some of them I felt were great reasons," Desormeaux said, "but that's not my decision to make."