Recap: Tennessee Titans falter in all phases in second half, lose to NY Giants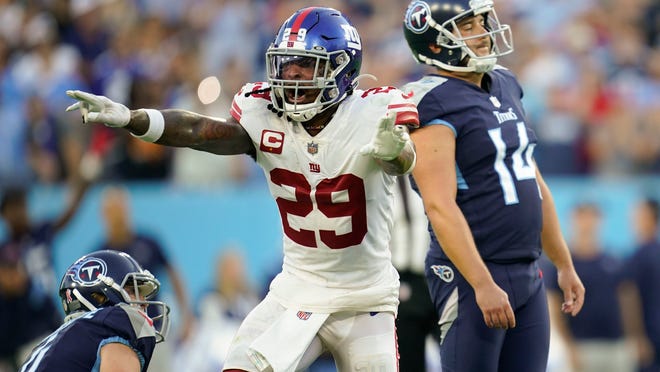 The Tennessee Titans host the New York Giants in Sunday's season opener (3:25 p.m., Fox).
In 2022, the Titans will aim for a third consecutive AFC South title and a fourth straight playoff appearance under reigning NFL Coach of the Year Mike Vrabel.
The Giants, led by first-year coach Brian Daboll, face the Titans for the first time since 2018, a 17-0 shutout by Tennessee at MetLife Stadium. The Giants last played at Nissan Stadium in 2014, a 36-7 rout by New York.
Follow along below for live updates from Nissan Stadium:
Tennessee Titans vs. New York Giants score, live updates:
Postgame
We'll have plenty of stories, videos and analysis coming tonight. Start here:
Fourth quarter
FINAL:  Giants 21, Titans 20. Randy Bullock's 47-yard field goal is wide left.
18 seconds left:  Kyle Philips with a big catch to the Giants' 27. But the Titans call timeout to avoid a delay of game penalty on the next play, their final timeout.
23 seconds left:  Another Giants defensive holding penalty. 1st down Titans, now just inside Giants territory.
29 seconds left:  Another Tannehill pass deflected at the line of scrimmage. 3rd and 4 from the Titans' 47.
37 seconds left: Titans first down after a Giants defensive holding penalty. The third down pass was batted down at the line of scrimmage. Titans to the their own 41 yard line.
41 seconds left:  After a Taylor Lewan false start, two short catches by Kyle Philips produces third and four.
1:06 left:  Touchdown, Giants. Chris Myrick TD catch from Daniel Jones. Giants going for two.
Saquon Barkley is in for the two-point conversion on a shovel pass, bouncing the play outside and diving into the end zone. Giants 21, Titans 20. Wow.
1:06 left, Titans have one timeout. NYG's first lead of the day.
1:16 left:  Titans call timeout after Saquon Barkley runs to the Tennessee 3. First and goal, Giants. NYG go for two if they score a TD?
1:54 left:  Daniel Jones bootleg scramble for a first down to the Titans' 14. Wow.
Two-minute warning: Daniel Jones to the Titans' 17. 4th and 1 from there after the two-minute warning. Play of the game.
3:44 left:  Saquon Barkley to the Titans' 26. Kristian Fulton punches the ball out, but it goes out of bounds. Intense finish coming up.
4:55 left: Richie James first-down catch. Giants getting toward midfield.
6:16 left: Ryan Tannehill checks to a tight end end-around on third and 1. It did not go well. Derrick Henry was lined up at running back on the play. Titans will punt.
7:42 left: Chig Okonkwo with his first NFL catch and a Titans first down. Giants will challenge whether or not Okonkwo was down closer to the Titans' 30, but it will still be a first down catch.
8:50 left:  Daniel Jones throws a interception to Amani Hooker in the end zone on third down. Ill-advised is not strong enough to describe how poor the throw and decision was by the fourth-year quarterback. Titans ball.
10:15 left: The Titans defense will need a stand here. 
10:38 left:  Daniel Jones incomplete on third down, targeting Richie James. Giants will punt.
And then Kyle Philips muffs the punt. Giants ball deep in Titans teritory.
11:43 left: Jeffery Simmons TFL.
14:24 left:  Titans will punt after a three-and-out. Tennessee is 3-of-10 on third downs today.
Before we get to the fourth quarter, let's make a point to mention the Colts and Texans, who played to a 20-all tie in Houston. That may prove important in the AFC South down the road.
Third quarter
1:20 left: Daniel Jones is sacked on third down by Rashad Weaver. Jones probably could have scrambled for a shot at the first down. Titans force a punt.
2:53 left:  Dontrell Hilliard left alone in the flat, and he sprints into the end zone down the left sideline for a 23-yard touchdown. Hilliard has two touchdown catches today, because of course.  Titans 20, Giants 13.
3:00 left: Aaron Brewer called for holding for the second time today. Still, Titans inside the Giants 30.
7:05 left: Another big play over the middle, this time to Treylon Burks for 27 yards. Titans are driving.
7:52 left: Kyle Philips picks up 20 yards over the middle on an excellent throw from Ryan Tannehill.
8:48 left:  It's a new game at Nissan Stadium. Sterling Shepard 65-yard touchdown reception on a missed assignment by Kristian Fulton. Titans 13, Giants 13.
Ola Adeniyi is questionable to return with a shoulder injury, the Titans announced.
9:44 left:  Dontrell Hilliard drop on third down, and the Titans will punt. Giants now outgaining Tennessee.
11:16 left: Saquon Barkley scores on a 5-yard touchdown run. Giants have a bad snap on extra point, so Titans lead 13-6.
12:45 left:  Saquon Barkley is free. He sprints down the sidelines, with Kevin Byard angling him out at the Titans' 22. A 68-yard run.
That came after a fumbled snap by Derrick Henry in the wildcat formation on third and short and a huge punt by Ryan Stonehouse.
14:00 left:  Taylor Lewan limps off on first drive, and Dennis Daley is in at left tackle.
Second quarter
HALFTIME: Titans 13, Giants 0
16 seconds left:  Every time the Giants offense has a positive play, something bad happens. Jeffery Simmons is held on a screen to Saquon Barkley. Giants' final first half drive is stymied.
1:05 left: The Titans drive stalls out at midfield, with Tannehill's third down throw incomplete into tight coverage.
2:26 left: Derrick Henry over right guard for 18 yards. His first big run of the day.
3:03 left:  Ryan Tannehill scrambles down the left sidelines for a first down. 
4:09 left:  Kevin Strong bats down the third down pass from Daniel Jones. The Giants offense is dreadful, at least to this point. Tennessee can make it a three-score game with a scoring drive heading into halftime.
7:00 left:  Randy Bullock on for another field goal. This one, from 23 yards, is good. Titans 13, Giants 0.  Titans have 14 pass attempts, nine rushes.
Giants rookie wide receiver Wan'Dale Robinson is out for the rest of the game with a knee injury, the team announced. The rookie from Kentucky had one catch for five yards.
9:11 left: A defensive holding penalty gives Titans a first down on a short third down gain. Then Tannehill rolls right and finds Cody Hollister on the sidelines for 22 yards. Titans threatening again.
10:00 left: Jeffery Simmons strip sack from blind side, and Bud Dupree recovers the ball in Giants territory. Titans defense looks good.
11:55 left: Saquon Barkley's first impact is a 15-yard carry over the right side. If the Giants have a chance today, he'll have to factor.
12:39 left:  Ryan Tannehill is hit as he throws, and his third down pass is incomplete. Randy Bullock's 46-yard attempt is good. Titans 10, Giants 0.
14:44 left: Dontrell Hilliard is wiiiiiide open on third down. He's into Giants territory on a 31-yard catch-and-run.
A.J. Moore is out for the rest of the game with an ankle injury, the team announces.
First quarter
End of the first quarter:  Derrick Henry has six carries for 20 yards. Not much daylight yet. Titans lead 7-0.
41 seconds left:  Sure looked like a Giants defensive back had every bit of Treylon Burks on a deep ball that fell incomplete. Wow.
3:39 left:  Jeffery Simmons sack. Bud Dupree may get a half-sack, too.
4:25 left:  Rashad Weaver TFL on a Daniel Jones zone read.
4:30 left: Ryan Stonehouse with a good punt, but a decent return and NYG will setup at their own 40.
6:19 left:  Giants not going downfield so far. After a first down, NYG will punt.
9:48 left:  Dontrell Hilliard touchdown reception is the first Titans touchdown of 2022. Bet you didn't have that on the betting card. Extra point good. Titans 7, Gians no score.
10:28 left: Ryan Tannehill rolls left, finds Treylon Burks along the sidelines. First and goal, Titans.
12:48 left: Three runs and a Giants three-and-out. Then, Kyle Philips breaks off a 46-yard return into NYG territory. It's Kyle Philips season!
15:00 left:  Been a fun day in the NFL so far. Titans win the toss and will defer. Daniel Jones and the Giants will have the ball first.
Pregame
Some pregame reading and notes:
Two young Giants pass rushers are out for today's game. Full inactives here.
It wasn't a clean sweep, but the vast majority of our experts believe the Titans will win Sunday.
Ben Arthur went down to Yulee, Florida to learn more about Derrick Henry. It's a good read.
Ben Arthur covers the Tennessee Titans for The USA TODAY Network. Contact him at barthur@gannett.com and follow him on Twitter at @benyarthur.